Features of Belgian bluestone
Features of Belgian bluestone
Belgian bluestone is also called 'Petit Granit' (Little Granite) and is considered to be one of the most effective materials for construction. This type of bluestone is only extracted in Belgium.
The name 'Little Granite' is commonly used to refer to Belgian bluestone. This name is due to its glittery look which is similar to granite's sparkle. It is also called 'Belgian bluestone' so as not to be confused with other foreign bluestone.
Look, colour and patina of little granite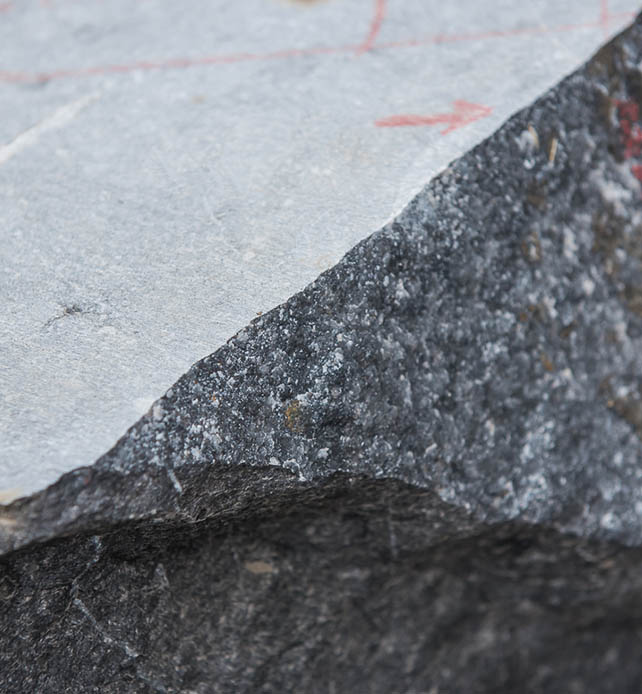 Little Granite is characterised by the presence of a lot of fossils, cemented by a micro-crystalline gangue containing very finely divided carbon which gives the limestone its blue colour. The main mineral in Belgian bluestone is calcite, as in the majority of limestone.
The fossils make the fresh breaks sparkle in the light. Crinoids, coral and shells are clearly visible on a varying dark background, according to the finish, of light grey or black via a range of blues.
The limestone lightens on exposure to bad weather, due to superficial leaching of the intercalated carbo
How do you know it's Belgian bluestone? It can be recognised thanks to numerous shells and gorgonians that you can see on the slabs. Due to its palaeontological history, this limestone contains numerous fossils which allows it to be distinguished from foreign limestone.
Traditionally, "Little Granite" is used in construction for :
New structures, renovation or maintenance;
furniture;
roads;
interior and exterior design;
and art.
The uses for Belgian bluestone are numerous. It is a material that is highly valued in architecture. You can also admire it on numerous buildings in Wallonia.